Whistles for Peace
This is a big mission, and we can't do it alone. In fact, we wouldn't want to! It's amazing what happens when people from all around the world can come together, sacrifice their time and talents, and make something amazing happen. This week, we want to highlight our partner Whistles for Peace.
Whistles for Peace is a nonprofit organization that was started by M2H supporter Marguerite Schondebare. She was put into contact with Dr. Geelhoed through her church, which was doing research on surgeons to support in overseas work. The more she learned about M2H and Dr. Geelhoed's mission, the more Margeurite's eyes were opened to a reality she had never really known before.
"I considered myself a reasonably educated, nice, caring woman!" said Marguerite. "How could I never have heard of these people? How could I never have known about the suffering and the people that were in the trenches trying to help?"
Marguerite was moved to action and started several initiatives to support Dr. G, including making pillowcases dresses and whistle necklaces for the children that M2H encounters in the furthest places. These handmade garments and sweet gifts are not just kind tokens – in some cases, they have been life-saving!
Hear this story about one dress and whistle gift from Whistles for Peace: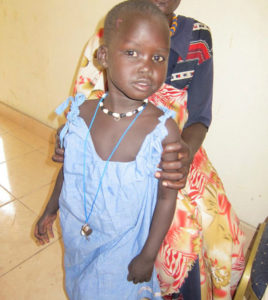 This South Sudanese child is wearing a dress sewn from donated pillowcase and she has a whistle necklace. It was the first new dress she ever owned and she was taught by Dr. Glenn Geelhoed how to blow the whistle. Within a few days of the photograph being taken, her village of Pibor was attacked and burnt to the ground by rebel forces. All the villagers had to run into the bush for safety. When this child ran into the bush, she was wearing a dress sewn by a woman at a kitchen table in a small American town. And she had a whistle to blow so that her family could find her. That is no small thing.
We are so grateful for Marguerite, Whistles for Peace, and our many other partners who make this healing work possible. Learn more about Whistles for Peace at www.whistlesforpeace.org. If you are inspired to find a creative, unique way to support M2H, we invite you to contact us. Thank you, thank you, thank you!