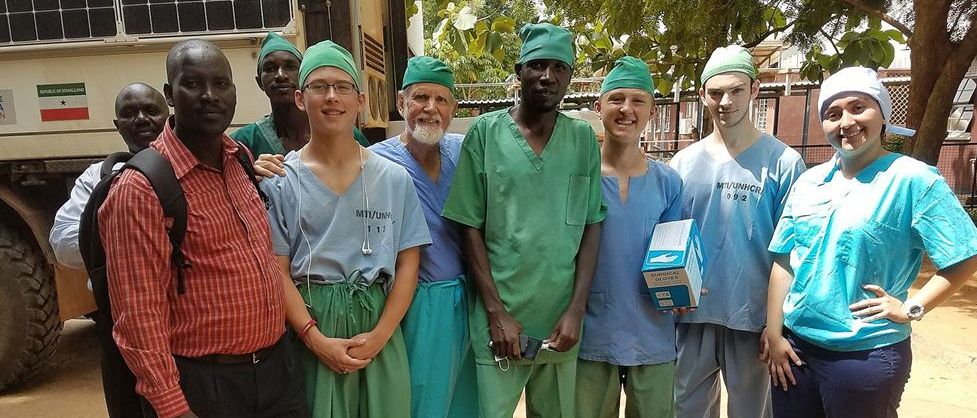 Uganda 2019: Do it. (Colby Bienkowski)
I open my eyes as the airplane lands on the small tarmac in Entebbe. This is it, my month-long mission in Uganda and my first time in Africa. We leave the airport and make our six-hour journey to Lira, passing by the expressway under construction.
We met up with Dr. G and saw the M2H Mobile Units, two massive 14-ton trucks. One will be our living quarters, with onboard water sterilization, electricity, showers, and, most importantly, air conditioning. The other truck is even more impressive. It features two operating tables, illuminated by overhead lighting, an autoclave, a satellite television, a security camera, and tons of medical supplies.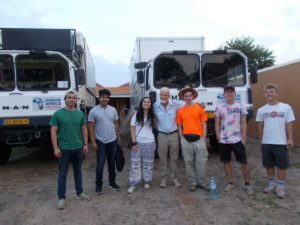 That night I couldn't sleep. It was either my excitement for the mission, or maybe it was just jetlag, but I wrote in my journal and read my MCAT book. The next morning took longer than we had expected, but we were soon off. Riding down incredibly bumpy clay roads toward Adjumani, the first part of our mission. 
The hospital was fairly large and well kept with plenty of staff. They had two operating theaters with three tables in total. It seemed like a pretty successful hospital. We met with them and discussed details, and completed some good cases. Dr. Francis, the head surgeon at the hospital, seemed well educated and competent in the OR. I assisted him frequently and got to see a multitude of operations. 
After completing the mission in Adjumani, it was evident that they were already doing better. And with that, we were off to Mungula. 
We were received enthusiastically when were arrived. Despite some setbacks, we gave tutorials and performed operations. We leave a week later, a bit frustrated and hoping the next location will be better.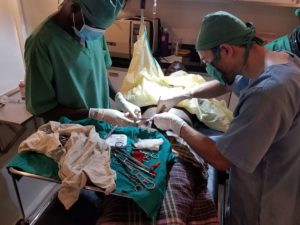 We arrived in Moyo after traveling across a ferry and climbing a somewhat steep mountain in the Mobile Units. We unpacked everything that night and got ready for the next day. Unfortunately, the Minister of Health canceled the mission as they are afraid of a case of Ebola in the nearby Congo. Luckily, the local organization Humane Africa Mission had a backup plan which was quickly put into action. And with that, we were off again.
We drove all the way back the way we came, through Lira, and set up in Otuke. We met with the local officials and the hospital staff, both of whom were more enthusiastic about our mission than any of the others. Despite late starts yet again, Otuke was the most successful mission. They had the biggest need for care and the least amount of resources than any of the other locations. They had an uncharacteristically large number of Hydroceles which Dr. G proposed to be studied.
We spent the most amount of time in Otuke, operating on countless Hydroceles and other conditions. Tutorials were the most successful here as well, despite the persistent tardiness. Otuke was the highlight of this mission and could very well be a good spot to return. We finish, pack up, and leave the next morning to Lira. We end our stay in Kidepo National Park and then head back to Entebbe to fly out.
Overall, the mission was amazing. The people in Uganda are so much friendlier than people here. We were never taken advantage of; instead, the locals tried to help us. The people from HAM always tried their best to help with anything we needed, actually driving 45 minutes each way to deliver us dinner. Felix w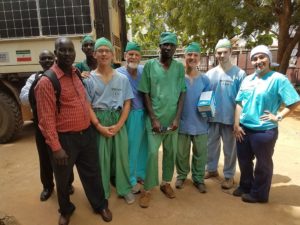 as a special character. The former director of Medical Teams International, and the current director of HAM, Felix had the most drive and compassion for his country, spending large amounts of his own money to help fund their mission. The children were always fascinated by us, following us around in large packs. 
While there were some glaring issues, the mission was a success in most aspects. Many of the tutorials were superb, we saw a decent variety of cases, and we went to some good areas.
I would say my first long term medical mission experience was a success. I got to see what it is like in Africa and the need they have. I witnessed so much publicity and medical administration and realized that it is a huge part of what is necessary for a successful mission. To those out there in the States, do it.
If you want to get experience, do it.
If you want to help people that really need it, then do it.
If you are unsure if you want to go into medicine, do it.
Going on a mission will be one of the most eye-opening experiences you will have in your entire lifetime. You will always remember the people you meet and the lives you change, including your own.
Are you going to "do it?" Apply for a medical mission with M2H here.