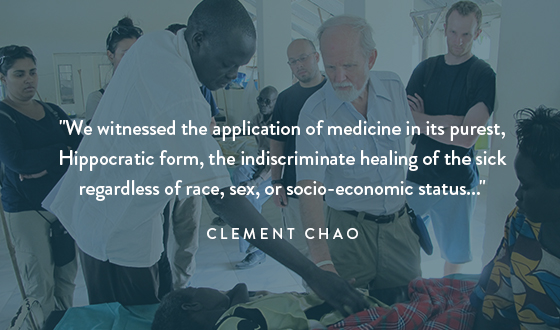 Success Story | Clement Chao
One of Mission to Heal's main objectives is life-changing learning, or learning that results from experiencing profoundly different environments that challenge long-held beliefs and habits while accomplishing feats of service and discovering meaning, purpose, and motivation for a lifetime.
Many of those who travel with M2H come back changed, moved, and re-dedicated to our mission to heal immediately the sick and injured in the poorest, most remote regions of the world. They also come home with stories.
This is one of those stories from Clement Chao:
Jou and I are both final year medical students from Sydney, Australia, who bumped into the M2H team by chance during our medical electives at Palawan Baptist Hospital. We were fortunate enough to meet Dr. Glenn and his team of pre-med students taking their mobile surgical unit around the Phillipines to provide minor to life saving surgeries to the underprivileged. While we were there the surgical unit was held up by Phillipines customs, however Glenn did not waste a second and spent the unanticipated down time sharing his vast medical knowledge in a series of impromptu lectures that rivaled our entire 4 years of didactic medical education! We witnessed the application of medicine in its purest Hippocratic form, the indiscriminate healing of the sick regardless of race, sex, or socio-economic status as we sat in on the clinics, surgeries and medical missions. It was truly inspirational to meet a medical professor uncorrupted by the typical cynicism, politics, and fiscal greed entwined all too commonly within a lengthy medical career. M2H will always be in our hearts, and I hope that we will meet again with more skills and expertise to join you all in your mission to provide fundamental health care to the most underprivileged human beings in the world.