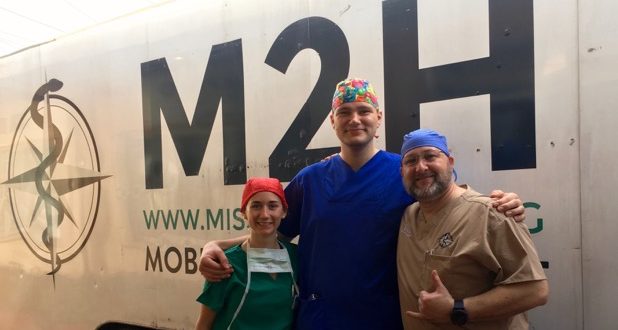 Philippines 2017: Reflections from Team Member Georg Fuchs
by Georg Fuchs
Mobile Surgical Unit (MSU) – Welcome to the Miracle Machine!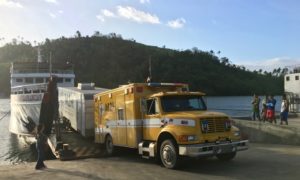 Honestly, how awesome is this truck?! Believe me when I say – you may have seen pictures; you may have read or heard what this truck enables the Mission Team to achieve, but you've got to see for yourself what can be done with its help to really comprehend it. It provides a fully functional and self-sufficient surgical unit including three OR tables for any community hospital in remote areas.
The Philippines
In the Philippines, two of our destinations, Mindoro and Marinduque, were only accessible by RoRo (the local ferry). After a day of travel we arrived in Santa Cruz on Marinduque – just in time for the grand finale of the Zumba lesson, which took place in the pavilion, that only a few hours later would have transformed into our screening area. It was amazing how fast everything went from there.
The next morning the surgeons were already screening patients while the rest of us set up the MSU. Just after lunch time the first procedures were performed. That first day on Marinduque I scrubbed in a few times and I was amazed how smooth everything went. The team members, who hours before had been strangers to each other, now worked together in harmony as a high performing team. Every communication was full of respect. The surgeons were distinguished by a laid-back attitude that probably results from many years in the mission field. And they established that very positive attitude for the entire team to follow. I was amazed by how much trust each patient had in every one of us.
About half of our team spoke Tagalog but we all spoke the language of empathy and that made all the difference. I found myself in an environment where everyone was working towards the greater good – to achieve the best possible outcome for the patient. The atmosphere within the team was unique, brilliant and simply hard to describe with words. It was very close to the idealistic expectations that made me go into medicine in the first place. During the first late night teaching and feedback session, Dr. Geelhoed put special emphasis on one of his favorite mantras: "The most important person in the operating room is not the surgeon or the anesthesiologist – the most important person is the one lying down." Before flying to the Philippines, I had hopes what serving on a mission trip would be like, but the feeling of actually doing so is indescribable.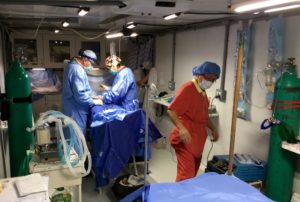 My Story
My interest in medical missions was sparked before I even went to pursue a medical career. The pediatrician who I went to as a kid in Germany is now the chairman of a medical NGO. He was my childhood hero. His grey beard in combination with his colorful dungarees gave him a very distinctive look. After I finished high school I did my research about medical missions – but back then it didn't make much sense for me to apply due to my lack of medical training. Now, during my last year of medical school, I feel like I can contribute to the success of such a great endeavor. I was very excited when I learned that a friend of mine met a surgeon who travels around the world and together with his team delivers high quality medical care to the most under-resourced and remote areas of the world. I wanted to be part of this team!
Charité University in Berlin, where I go to, is very open about where we spent our electives. I've always tried to get a greater view on medicine and spent time abroad in different surgery departments. But Mission to Heal has been the greatest experience along my path in medicine. I was very fortunate to be part of Dr. G's Mission and to work with such an inspiring and highly skilled team of surgeons and professionals.
The Mission
This mission has taught me more about surgery than everything I learned in medical school and my surgical electives. Teaching is a big part of every Mission to Heal endeavor. I'm grateful to have joined an organization that provides much needed medical care while promoting education and mentoring. Dr. G very much believes in every single one of the team members accompanying him on his missions. And he takes the time to really get to know you as a person; it doesn't matter if you are the most junior person on the team.
When I first met him, I immediately knew that this trip was going to be much different from what I had expected it to be. Once we arrived in Manila, Dr. G welcomed us and while we were on our way to dinner we had already entered the world of medical missions. I had no idea how much I would actually learn during the next couple of weeks. Dr. G is a fountain of wisdom and willing to share it with everyone who is willing to learn. I learned a great deal about surgery, and maybe even more importantly about the immense value of high quality medical care for the local communities. The towns we visited hadn't seen a surgeon in years and the M2H team really made a difference for the people.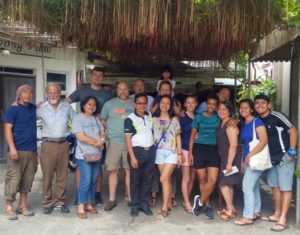 I shared an incredible opportunity with a team of inspiring individuals that quickly became friends. I was inspired by their integrity and perseverance. The lessons I learned will guide me in my medical career. I want to end this reflection with another one of Dr. G's favorite quotes by Theodore Roosevelt: "Nobody cares how much you know, until they know how much you care."
Thank you for an invaluable experience that went beyond anything that I've experienced in medicine so far on so many levels!