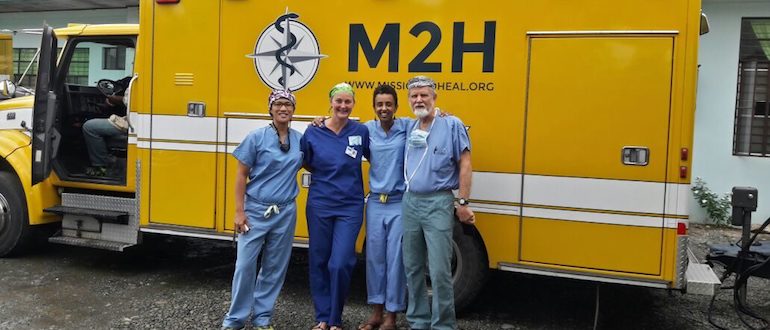 Philippines 2017: Reflections from Team Member Belain Eyob
by Belain Eyob
Much time had passed between my early curiosity in the field of surgery and finally arriving in medical school.
Whilst growing up in Ethiopia, we were at the epicenter of several global health initiatives, attracting interest from endless NGOs, pouring in to tackle issues such as the HIV/AIDS epidemic, maternal and child mortality, polio vaccinations and oral rehydration therapy for children dying from dehydration. These preventable causes of mortality and disability were the focus of public health measures, and as my interest in the field of medicine stemmed from such early exposures, I was under the impression that I had to table my inner desires to pursue a career in surgery. I was keen on attending Georgetown for several reasons, but was even more impassioned after learning the flexibility afforded to students to pursue an international elective, knowing that my niche in medicine would revolve around Global Health.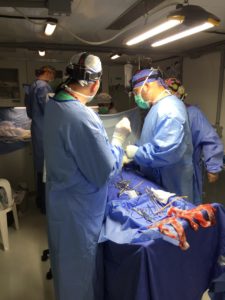 During my medical education, my intrigue in surgery re-surfaced, but I tried to taper my enthusiasm. I could not justify my selfish pursuit when I had vowed to be elbow deep in global medicine as a future physician. I could not understand how such a specific field such as surgery could find a seat at the table on the global platform when most conversations revolved around public policy, fiscal responsibility, scalability and sustainability.  
I shared this dilemma of mine with a dear friend during a chance encounter in D.C. several years ago. It was she that introduced me to Jay Miller. He spoke of this general surgeon whom he had worked with. He told me that he's been travelling to the most dangerous and resource-poor corners of this world for decades to deliver much needed surgical care. It is then that I met Dr. Glenn Geelhoed. I began to learn more about how "surgery is the neglected stepchild of global health". Although these were Paul Farmer's famous words used to mobilize the international community, Dr. "G" had been challenging these principles for decades.
My appreciation of the role of surgery in global health will never be the same again.
After several attempts, I was finally fortunate enough to participate in Mission to Heal's (M2H) 2017 project in the Philippines. Beyond delivering safe and effective surgical care to remote areas, the unique Mobile Surgical Unit (MSU) deployed by M2H also emphasizes the importance of teaching local practitioners the surgical skills needed to create sustainable practices. In addition, M2H reminds western volunteers that there is much that local communities can teach us, especially on how creativity and resilience can be essential tools of health care delivery when resources are limiting. Lastly, Dr. Glenn takes budding medical students and professionals under his wing, passing on years of knowledge and wisdom.
While in the Philippines, we joined forces with Medical Ambassadors Philippines and took the fully equipped MSU to three municipalities, two of which required transportation by "RoRo" (ferry) across islands. This allowed free surgical care to be delivered to local communities, eliminating the financial burden of travelling to higher level hospitals. We operated in the MSU over a three-week period, providing free operations to 199 patients. Although the surgical excursion lasted three weeks, it was important for me to realize that this mission was the end product of months (at times years) of planning, collaboration, negotiations and relationship development with local governments.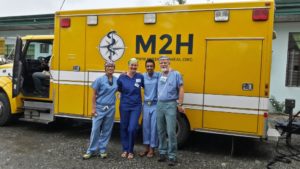 The personal and professional impact this experience had on me is more profound than I can articulate in words, and one that I continue to ponder. However, I am most grateful not least for all the things that went right, but also for what our shortcomings and obstacles taught me about the intricacies of such missions. A successful surgical mission not only requires the presence of skilled surgeons to perform the operation, but also necessitates the availability of anesthetist that can deliver and monitor anesthesia safely. We learned this lesson the hard way, having to limit the majority of cases to minor cases only performed under local anesthesia. I would not dare undermine the impact these "minor" operations still had on our patients, whether it was removing large deforming benign masses that had been growing for years, or draining and treating large abscesses in patients with disseminated Tuberculosis. It's impossible to measure the impact made on their quality of life. But I could not help but rue missed chances on making an even greater impact with the resources and personnel we had available. To quote Dr. Elizabeth Drum, an anesthesiologist: "if surgery is the neglected stepchild of global health, then anesthesia is its invisible friend."
I am forever grateful for this international opportunity, as it has served as a launching pad for what I hope to be a lifelong commitment to general surgery in low and middle income countries. I have gained immeasurable gains and learned so many invaluable lessons in the world of global surgery and what can be accomplished. More importantly, this experience has fueled my desire to push forward in creating a future where we can reduce the global burden of disease preventable by safe and effective surgery.