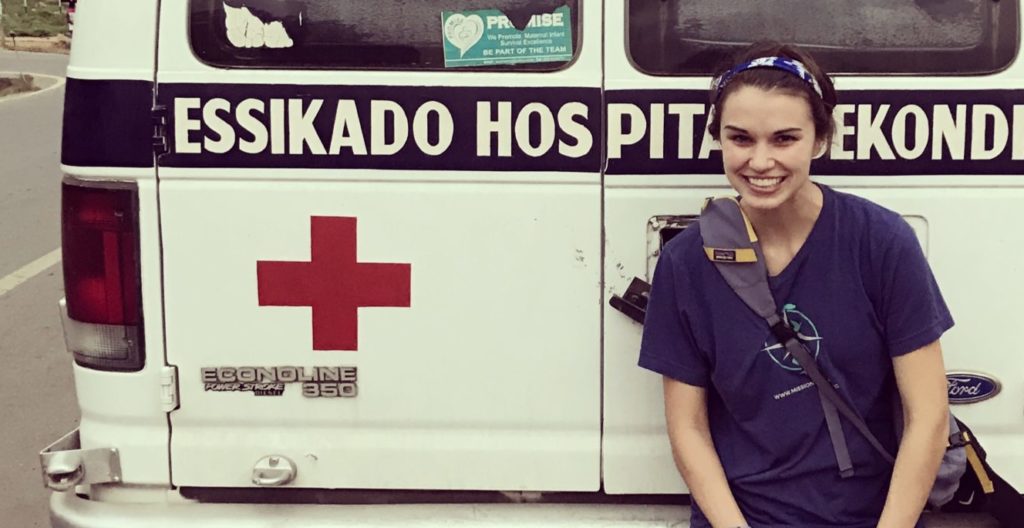 Ghana 2017: Reflections from Team Member Trinity Hulst
By: Trinity Hulst
I left Grand Rapids, Michigan the day after Christmas with a full heart ready to serve the oppressed and suffering in Ghana. My soul so excited for what lay ahead, but I was also filled with anxiety and fear of stepping into the unknown. For the first time, I was leaving my family for one month, my closest friends, and all that comes along with comfort- a true leap of faith from my perspective. My strong faith in God keeps me grounded and that is what propelled me forward in the act of going through with this mission and I am so happy I did. On the other side of fear is a world that is beyond explanation and God meets you there like no other. He met me in my team member's perspectives. He met me in the challenges. He met me in the joyous times. He met me in the hospital. Most importantly, He met me in my interactions with the people of Ghana and our patients at Essikado Hospital.
My time at Essikado Hospital was split between two locations: the consultation room and the operating theatre. Coming into this mission, I had expectations of what serving in an underserved region would be like, but the act of actually doing so is indescribable. When providing medical care you get the joy of helping people by treating the problem at hand, but you also harvest great sorrow over not being able to do anything at all. I consistently lived in this tension the last four weeks. When in the consultation room, I worked alongside Dr. Geelhoed medically screening patients. During this time, I came in contact with individuals suffering from a variety of disease states. Some, our team could do something about, others we had to deliver the news that nothing could be done by us, gut wrenching for me.
Throughout the trip, I was overwhelmed with the staggering amount of need in the region of the Western Province. Dr. Geelhoed warned me as time went on, we would accumulate an increased waiting room population, and he was right. I laid my hands on a man who had been suffering with Elephantiasis for 7 years. I hugged a woman with Neurofibromatosis. My hands examined a patient with a Marjolins Ulcer. I told a woman about a program in Europe that helps with TEV as she has been living with this disease for years. How blessed I felt to enter these people's lives for a few minutes, but the feeling that we could not do anything for them broke my heart. I chose to adopt the perspective that even though we could not deliver them from their disease we had the opportunity to enter into their suffering until God made a way. I pray and hope that my gentle handshake, my smile, or my words could breed some comfort in their trial. My interactions with these patients humbled me as I saw strength, perseverance, and true pain at the forefront. My heart will evermore hold these conversations and stories.
On to the operating theatre. The joy of the patients we did help, I consider that a gift. At the end of our trip, it was determined that the team performed over
200 operations. When I think of this number, I think of 200 people going back home healed. 200 individuals entering back into their community with the improved ability to carry out their daily lives. I thoroughly enjoyed scrubbing in with Dr. Geelhoed as much as I did and learning the fundamental basics of surgical technique. It is a privilege to be given the authority to perform surgery and having the opportunity to assist one of the best surgeons of our time is something I will never take for granted.
The most important lesson I did take away from this experience is the importance of promoting the sustainability of healthcare in these regions. As students and medical professionals, we came to Ghana to deliver medical treatment, but as time went on, I began to realize the impact of what indigenizing care could leave. I understand how significant this is even more now that I am no longer in Essikado. Our mission team was in the Western Province for one month and now we are no longer there, but the local student nurses, general practitioners, and operating theatre nurses indeed are.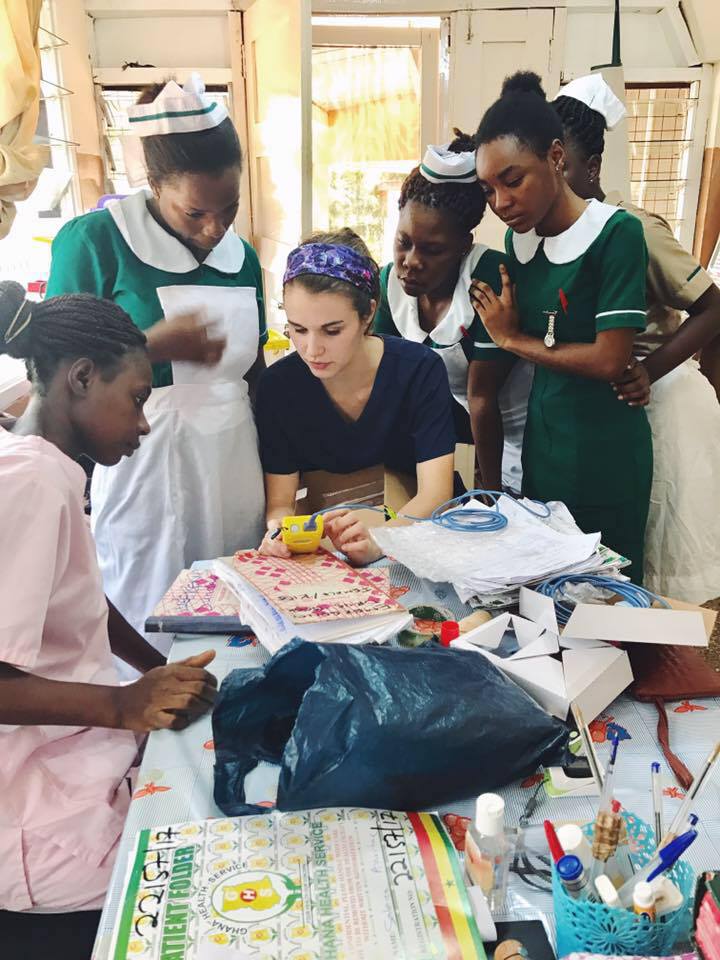 While performing operations and medically screening patients, our team collaborated with the local Ghanaian hospital staff. Throughout the experience, I looked for ways to be able to carry out this sustainability effect to the best of my medical capability. I was thrilled to find out our team was going to be donating two pulse oximeters to the hospital and was very eager to have the opportunity to teach others in the hospital how to utilize these life changing devices. In one of our last days, it was a pleasure to be able to teach the pediatric ward nurses how to measure the oxygen saturation and pulse of the patient. We also discussed the parameters at which the pediatric populations should be at when in stable condition and the importance in recognizing when the patient is no longer within those parameters.  The pediatric patient population and nursing staff were close to my heart as I work at a Children's Hospital back in Grand Rapids, Michigan so this experience brought a little bit of home into Ghana for me. More importantly, it allowed for a skill and life-changing device to be transcended.
Despite our good intentions of trying to teach other medical personal an improved skill set, it was not always actively received. Our biggest challenge throughout the mission was trying to motivate some of the local Ghanaian hospital staff to collaborate with us in the operating theatre. From my perspective, this could be due to a number of factors: motivation, intimidation, or energy level. This cultural barrier was an aspect I did not anticipate and trying to break it was a difficult task. Dr. Geelhoed truly taught me how to handle these cultural barriers with patience and a humble attitude. As the four weeks came to a close, it was amazing to see some of the Ghanaian staff join our initiative. Although at the end of our time, no one was credentialed to perform a hernia repair or thyroidectomy on their own, interests were created and small dosages of confidence were built. This may be enough for the next time. All in all, a small foundation was laid and we hold true to the thought that good things take time.
This experience was life changing to say the least. Reflecting on my last month in Ghana, it is amazing to contemplate all our team did. The big moments obviously stand out, but I find myself grateful for the little things too. I am missing morning runs along the Takorid-Sekondi Coast with Dr. Geelhoed. I find myself craving Whetabix for breakfast and Eko's fabulous freshly squeezed juice. The walks to the hospital were the best second start to my mornings. I find myself waiting for Rebecca's warm welcome at the consulting entrance. I find myself eager to improve my subcuticular closure technique with Magadalena, Adaline, and Rita. Sunday afternoons at the beach are calling my name as I look out the window to inches of snow. At lunchtime, I dream of the amazing taste of Rocky Bends and a Coca Cola after scrubbing in with no air conditioning. I miss the embrace from Agatha and Mary. My heart can't wait to hug all the precious children again and all the in between.
As I head into the future a changed young woman from this experience, I hold on tight to the lessons I have been taught, grateful for the people I shared it with, and new perspective of this world. Each and every one of God's people has an incredible amount of value and I loved the opportunity to love people on the other side of world. My next chapter of life includes gaining an enhanced clinical education in becoming a Physician Assistant. I will begin at Western Michigan University this upcoming fall. With this education and privilege, I hope to serve internationally in some capacity in the future and have the opportunity to collaborate with other medical professionals in creating an improved sustainability effect. Thank you Mission to Heal for an unforgettable experience.