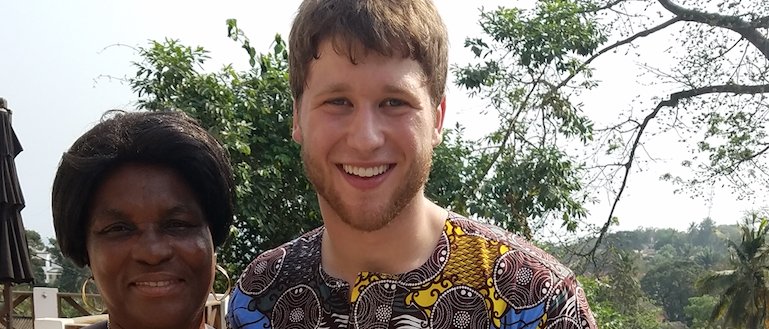 Ghana 2017: Reflections from Team Member Alex VanWoerkom
by Alex VanWoerkom
My journey began early in the morning the day after Christmas.
As I said goodbye to the comfort and familiarity of Grand Rapids, Michigan, I was filled with excitement: my journey to Essikado, Ghana, was about to begin.  My brother had talked to me about his visit a few years prior to Essikado with Dr. Geelhoed; however, no amount of information would have truly prepared me for the countless and invaluable experiences, lessons, and blessings that I was about to receive over the next month.
This would be the first time leaving behind my family and friends to travel alone to another country.  With this came a degree of apprehension because I would have very limited communication back home.  Yet I accepted these uncertainties knowing this was a unique opportunity for me to grow.  I learned many things during this month away from home including lessons about other cultures, history, anthropology, and medicine; yet most importantly, I learned about myself.  All of these lessons have been invaluable and will stay with me throughout my life.
Immediately after joining Dr. G and my group at Dulles Airport in Washington, D.C., I realized that this trip would not be strictly focused on medicine.  During our 45 minute drive to Dr. G's home, we were taught everything there is to know about the architecture of Dulles Airport and the history of Washington, D.C., including various landmarks and the Potomac River.  Dr. G is full of information and eager to share with anyone who is willing to learn.  The learning never stopped as we continued onto Istanbul, then to Accra, the capital of Ghana, and finally to our destination of Essikado.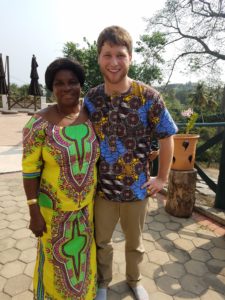 Upon our arrival in Essikado, it was clear that Ghanaians have obstacles to maintaining health that I have never experienced and take for granted living in the United States.  Many families lived in tightly packed one- or two-room households, and sewage would run openly down the sides of the streets.  Talking with the local Ghanaians, I discovered that many people earn and live off of what would be equivalent to only a few cents per day in the United States.  In addition, access to healthcare providers was limited.  Many people living in developed nations could not perceive what it means to live in these conditions.  However, for these Ghanaians it was a way of life, and wherever we went we were always greeted with smiling faces.  I was eager to set up our medical clinic at Essikado Hospital where we could provide medical care that was accessible and of no financial burden to these people.
Our time at Essikado Hospital was spent between the consultation room and the operating theater.  In the consult room we provided primary medical care and screened for patients that needed operations.  As a paramedic back home, I felt that my training transitioned well to the consult room.  I was challenged to take my patient interviewing beyond emergency medicine and into a primary care setting.  The largest obstacle was the language barrier.  Although English is the official language of Ghana, there are many additional languages specific to villages and regions around the country.  The children are now taught English in school, but many of the older adults have only learned the language specific to where they grew up.  When working with those who knew little or no English, we relied on the help of willing local volunteers and nursing students who acted as translators.  Often information would be lost through translation, and this would make it difficult to understand how to help the patient.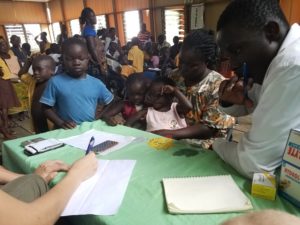 We were very grateful that the hospital's administration allowed us to work with their staff and utilize their facilities.  Although much different from the standards and conditions seen in an operating room in the United States, the operating theater at Essikado Hospital was fully functional, and, with additional supplies collected by Dr. G, it was equipped with what was needed for our mission.  Apart from our operations, the operating theater in Essikado is used almost exclusively for C-sections and never for elective operations.
By the end of the month, it was estimated that our team had performed over 200 operations.  Prior to this trip, I had only limited exposure to the surgical setting, and I was excited for the opportunity to be involved.  The operations consisted of hernia repairs, thyroidectomies, lipoma excisions, salivary gland tumor removals, hydrocele repairs, and others.  Prior to surgical correction, these conditions, although not immediately life-threatening, were negatively affecting the patients' quality of life.  Many returned to the hospital to express their gratitude to our team for allowing them to return to a normal life.  Being able to share in their joy is a blessing beyond any that I have ever experienced, and is something that motivates me as I pursue a career as a physician.
Moreover, our time spent in Ghana was not without difficulties.  We were initially met with resistance from the operating theater staff as we pushed to schedule as many cases as possible.  As the operating theater is normally used only for C-sections, the staff was not elated about the abundance of cases we were bringing into their schedules.  This was frustrating to me because I believe that in order to further improve the conditions of a community, those in the community must also be motivated; expectations cannot only be placed on outside assistance otherwise it is difficult to sustain the improvements when the assistance has left.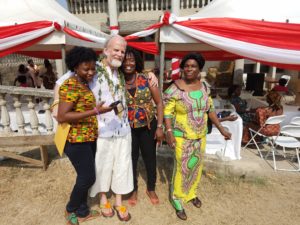 One of Dr. G's main goals on each of his missions is to indigenize skills in the places he visits so that care can continue after he and his team leaves.  Throughout our stay, word of our presence continued to spread throughout the surrounding communities.  By the final week there were hundreds of patients lined up to be seen.  Many of these patients had conditions such as hernias that we would have been able to repair if we had more time.  We were able to help a number of people with these conditions; however, if these operations are not continued, the incidence rate will remain the same and the number afflicted will continue to rise.  Unfortunately, none of the physicians at Essikado Hospital were willing to learn the techniques of a hernia repair or various other procedures from Dr. G in order to continue these operations after our departure.  
Thankfully, this disinterest was not shared by everyone.  Eventually the operating theater staff did become more willing to take on additional cases and would even come into work on their days off.  After learning of our mission, other local physicians, PA's, and nurses from nearby hospitals came to join us.  Without expecting any compensation, these individuals were motivated purely by the goodness of their hearts.  These are the types of people who will go on to touch the lives of many as they strive to improve their communities.
As a graduate with a degree in Biomedical Science, this trip has taught me far more than any of my college courses and beyond what I suspect I will see in my courses through medical school.  I have now seen cases that most would never see in the United States including filariasis-induced elephantiasis to enormous hernias encasing the majority of a patient's bowels.  Without access to appropriate medical care, these people suffer from conditions that progressively worsen over the course of many years.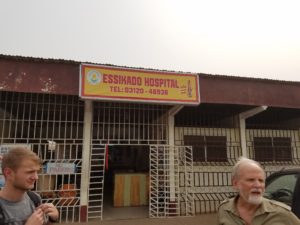 Many of these patients we were able to help, but some were afflicted with diseases beyond care that we could provide.  One instance that stuck out to me was a young man with visible deformity to his head.  The underlying cause was a carcinoma that was degrading the skull.  He provided us with CT scans that showed the tumor was also protruding inward and displacing his brain.  It was clear that he had been seen at another facility and given a poor prognosis, but after hearing of the physician who had come from America, he presented to us hoping that something more could be done.  Unfortunately, the best we could do was offer him a referral to a facility that could provide a higher level of care and possibly some amount of comfort in the time he does have left.  It was painful to see a condition like this that could no longer be treated, and this is a patient I will never forget.
Interestingly, in addition to the unique things I did see, I was also surprised as to what I did not see.  In my work as a paramedic, almost everyday I am called to patients with difficulty breathing or chest pain.  Apart from hypertension, I saw very few, if any, cardiovascular conditions out of the thousands of patients screened.  Also, there were no patients complaining of breathing problems due to chronic pulmonary obstructive disease, asthma, or heart failure.  These common conditions seen frequently in the United States are nearly non-existent in Ghana and throughout the rest of Africa, which shows the negative effects the American lifestyle has on many.
As I continue my journey in medicine to becoming a physician, the experiences and opportunities this mission has provided will stay with me the rest of my life.  In one of our many nightly tutorials led by Dr. G, Dr. G was describing the purpose of his missions and quoted Theodore Roosevelt saying, "Nobody cares how much you know, until they know how much you care."  These are words I also wish to live by and words I plan to model my career in medicine after.  My trip to Ghana has been an invaluable experience, and I hope to soon return on another mission.