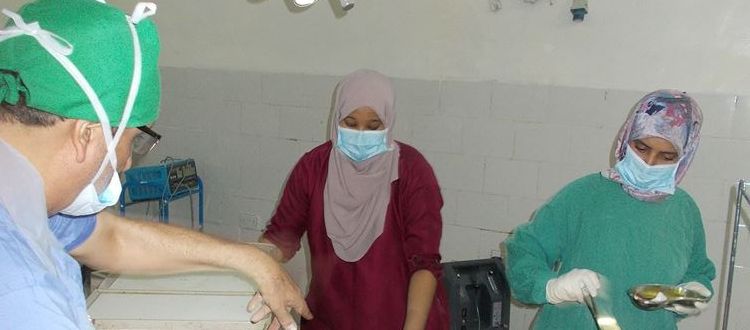 A Perfect Teaching Opportunity
Mission to Heal exists to heal immediately the sick and injured in the poorest, most remote regions of the world. This objective is built on three guiding principles:
Provide surgical operations and medical care to those who need it, who have limited or no access to it, and who cannot afford it.

Equip medical professionals with the heart and hands to function in needy and poorly-resourced conditions.

Equip locals to provide the medical care so that the community attains a greater degree of self-sufficiency.
In this blog post, we want to highlight how the third objective was exemplified during our recent mission to Somaliland. Here, Dr. Geelhoed was assisted by three local medical practitioners: Dr. Anana, Dr. Ismail, and Dr. Sabra. One patient we encountered had papillary thyroid cancer. Dr. Geelhood noted the simultaneous "full drill of this multicentric cancer, but normal size gland" and its "relatively easy removal" of the patient's condition. Additionally the techniques used for this operation were also relevant to treat Graves' Disease, making this patient's condition a perfect teaching opportunity.
The student for this operation would be Dr. Sabra, whom Dr. Geelhoed described as "unfailingly polite" and "always having the patient's best interest in mind." It was Dr. Sabra's first time performing a thyroidectomy and a cholecystectomy, but she was able to successfully perform both under Dr. Geelhoed guidance.
"Now she has conquered two unknowns in the same day and is bursting with enthusiasm for taking on the next one," wrote Dr. Geelhoed post-surgery. This quote is an extremely fitting example of how Mission to Heal seeks to "train the trainers" to leave a sustainable healthcare legacy.
In a recent email from Dr. Sabra herself, we were happy to learn that our impact has continued in Somaliland, as she wrote, "Thank you for the trust and the support. Indeed it a once-in-a-lifetime opportunity to meet you."
Dr. Sabra is one of the many doctors who has experienced the influence of Mission to Heal, and in turn, will help spread our legacy to heal the world.
Help us bring healing to the furthest people first. To make a tax-deductible donation to Mission to Heal, click here.