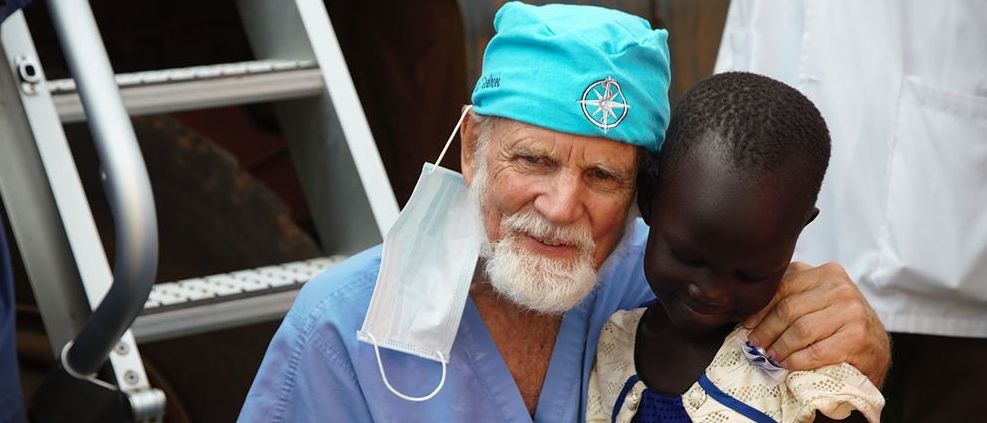 A Day in the Life of Glenn Geelhoed
The following contains excerpts of Dr. Geelhoed's Journal during our mission in Uganda, 2019. 
Today we had insisted on an early start and a rapid pace to conclude our operating. We had said that we would review the patients who had been screened and see them into the OR and with two tables working. We would finish early so that we could pack the unit and get Vanessa on her way to Lira with Felix to be picked up the next day by Godfrey and brought to Entebbe.
I entered the ward and saw a fellow hooked to an oxygen concentrator- the same kind as in the MSU. He had an alleged asthmatic attack and was getting O2 as if he were in the wards of any other hospital. We looked over a couple of the post-op patients such as the young Dinka* in the RTA who had the amputation of his great toe as we are hoping to have him granulate and perhaps get a skin graft rather than having him re-amputated at a higher level.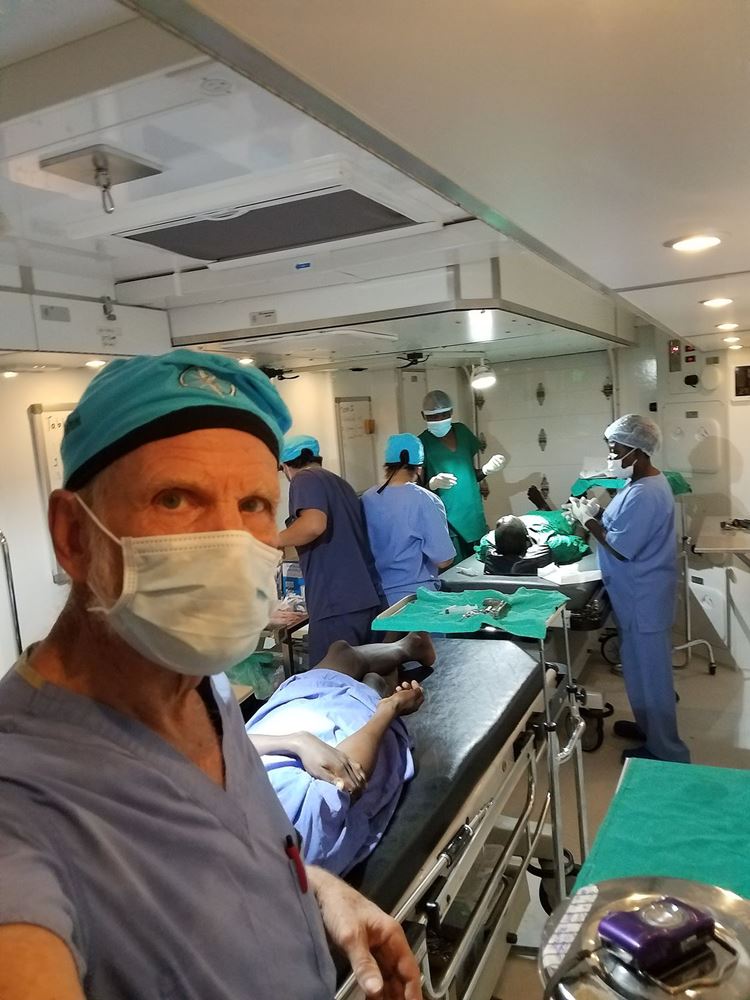 We had a list of selected patients who were ready to go- about seven cases, but one of them I saw was listed as a ganglion cyst, a diagnosis with which I agreed but disagreed that this was a candidate for excision. We would use our own vial of corticosteroid and aspirate the gel and inject lidocaine suspended steroid which we did.
The first case was a Dinka* girl with a lipoma right over the manubrium of her sternum, and that started at ten-thirty AM and it went well enough that I called for the second table to be occupied as well. The second table was occupied by an older Dinka woman. She had a very small epigastric midline fascial defect which had produced a midline hernia. As I had her prepped and anesthetized, I reduced the hernia back into the abdomen.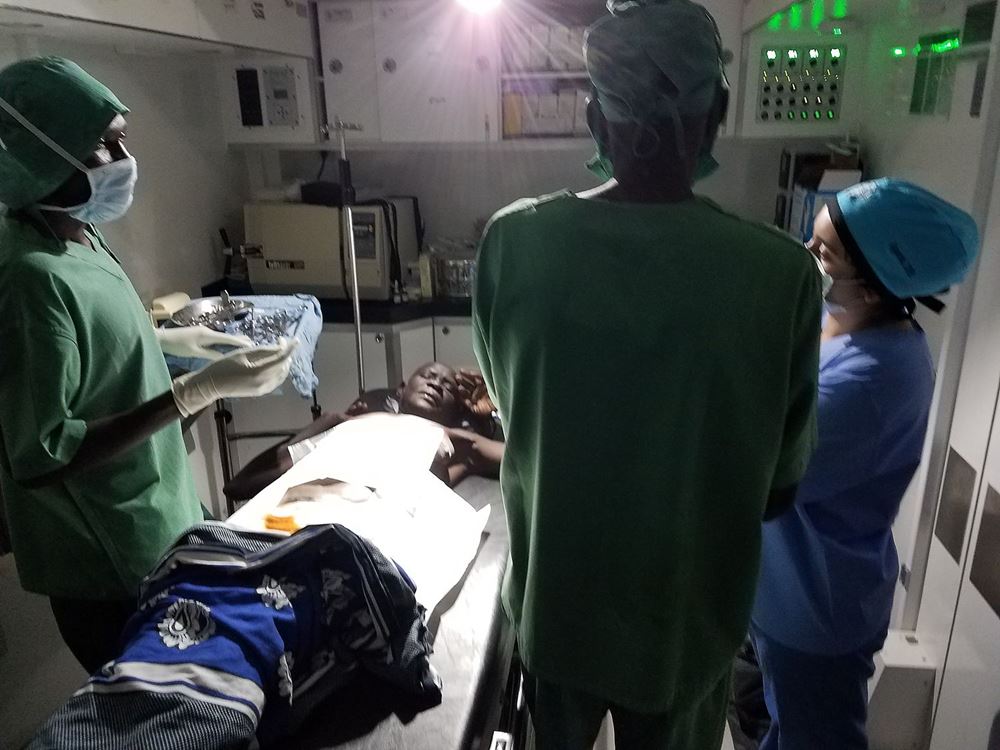 With the medical student William the Innocent – or the tall – depending on whether you are working alongside us, we did a man with a very firm mass inside the muscle of his deltoid area and had to split open the fascia and pull it out. It was a calcified and sold mass that he reports had followed an injection of some kind in that area. He is happy to have it removed.
We did a half dozen more cases principally lipomas that were large and inconvenient for the patients and had Vanessa scrub in and I took multiple photos of her doing some parts of the procedures as her Swan Song.
We then adjourned for a drink and then packed the MSU OR as Felix was conducting a meeting under the tree with lots of administrative types. When we were ready to say farewell to Vanessa, the Project Director for Medical International came to visit about two days later than expected. I brought him around and gave him the full M2H and MSU story and Vanessa's parting act was taking him on a tour of the interior of the now packed up MSU OR.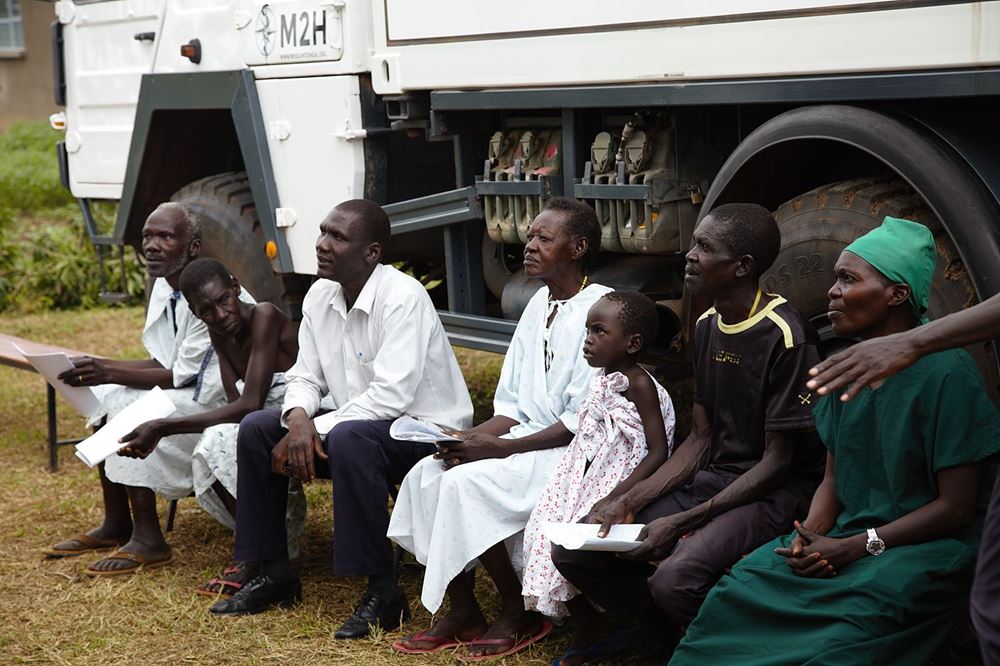 We then adjourned to the tutorial sessions and had planned to run right afterward, but as we got further into the discussions and the dark skies and cloudy rain spurts and howling wind set in, I decided it is time to sit in the MSU and nurse my running nose and do some serious typing. So, now you know the outcome of those plans and how it is unlikely that I can do much more than brief texts to the joint when I am able to rescue the information on the now sequestered and inaccessible hard drive. We are always "living on the edge!"
*Nilotic ethnic group native to South Sudan
Learn more about Dr. G and Mission to Heal here.